Spanish food is as rich in variety as Spain's diverse culture and landscapes, both of which have shaped its cuisine over centuries. 
From tasty tapas to superb seafood and traditional roasts, Spanish food is colourful and tasty.  Incorporating old and new traditions, Spanish cooking is a melting pot resulting from its complex history.  Traditional Spanish cooking is down-to-earth, uncomplicated food, based on ingredients available and grown locally.  History has layered onto this, beginning with fishing, hunting and nut gathering - typical of the Celts – who inhabited the region before it became part of the Roman Empire.  The Greeks and Romans introduced viticulture (wine growing), and new ingredients were introduced via trade with Africa, India, Persia, the Muslim conquest, and Spain's involvement in the new world.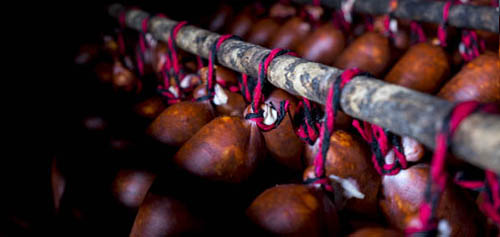 Spanish food is particularly known for products such as manchego cheese, chorizo, Spanish ham, olive oil, olives, garlic, vegetable preserves, nuts, spices, wine, and speciality sweets.  Well-known-recipes, synonymous with Spain, include sangria, paella, fabada, Spanish omelette, and patatas bravas, as well as the huge variety of dishes associated with tapas (small plates of diverse food, used as appetisers or as the main meal itself). 
There is a national pride in Spanish gastronomy, and what the land, sea and producers contribute to it, which has resulted in many festivals and events to celebrate it.
Explore our blog and recipes to find out more about the delicacies of Spain, and as the Spanish would say (when wishing people a good meal), "Buen provecho!".