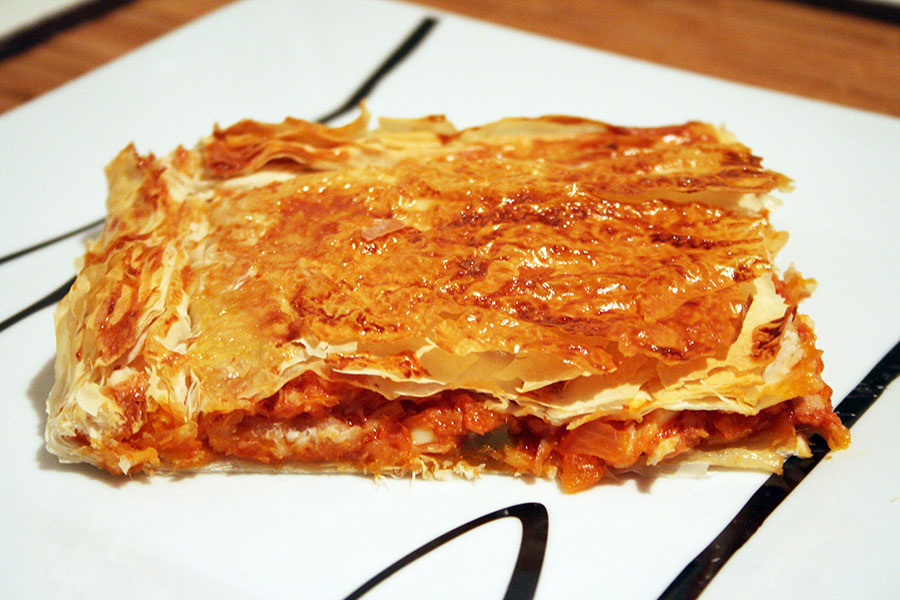 Description:
Empanada is the Spanish version of a delicate pie which wonderfully combines finely chopped vegetables, tuna and hard-boiled eggs.

Recipe method:
Defrost the puff pastry according to the instruction on the packet. Leave at room temperature while preparing the filling.
Dice all the vegetables (onions, peppers and zucchini). Put them in a pan with two teaspoons of olive oil and fry gently.
Once fried, add the tomato sauce and stir for a few minutes.
Remove the vegetables with tomato sauce from heat and put in a bowl to cool.
Add the 4 cans of tuna and two finely sliced boiled eggs to the bowl. Mix everything together and season with salt. The filling is ready!!
Pre-heat the oven at 150-170ºC)
Take one of the sheets of puff pastry and lay it on a tray suitable for oven.
Take the mixture prepared in steps 2-5 and spread it evenly over the puff pastry.
Cover this with the second sheet of puff pastry.
Brush the top of the pie with the beaten egg yolk.
Place the pie in the preheated oven and bake at 170 º for 20-25 minutes.
When the pie crust is golden in colour, remove from the oven.
Let it cool and your EMPANADA is ready to eat!!

Ingredients & Quantities:
1 onion
1 green pepper
1 red pepper
½ zucchini
200 grams of tuna in olive oil (4 small cans)
2 boiled eggs
1 egg yolk (beaten)
2 sheets of puff pastry (frozen)
200 grams of natural tomato sauce
2 tsp Extra Virgin Olive Oil