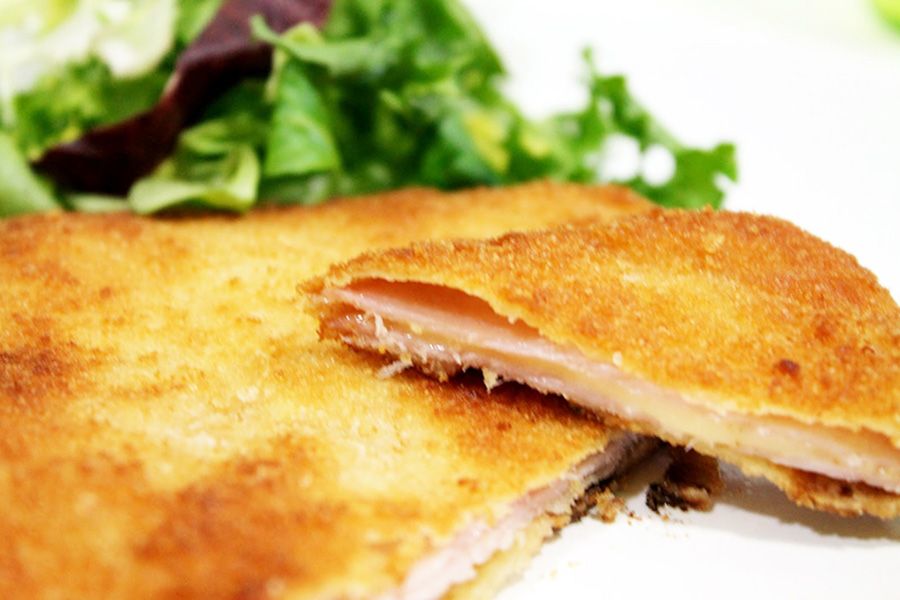 Description:
San Jacobos is a Spanish Tapas eaten mostly by children, but also by adults, containing ham and cheese that can be eaten hot or cold. It is a perfect snack.

Recipe method:
Take a thick slice of cooked ham. The ham should be thick enough so it won't break while you place it. Then, place a slice of Iberico cheese on the top of it and another slice of ham to cover it up.
Beat the eggs in a bowl and dip the ham and cheese in it, then dredge in a flour and bread crumb mixture.
When all the slices have been prepared, fry them in hot Extra Virgin Olive Oil until the colour is golden, turn over and fry on the other side. Fry them for 2 minutes on each side.
Finally, place on kitchen paper to drain off any excess oil before serving.
Repeat the breading and frying with each of the other 3 San Jacobos. Serve hot accompanied by salad and chips.

Ingredients & Quantities:
8 slices (about 4" x 4") of cooked ham
4 thin slices Iberico cheese
125 gr unbleached white flour
125 gr bread crumbs
2 eggs
2 Tbsp water
250 ml extra virgin olive oil