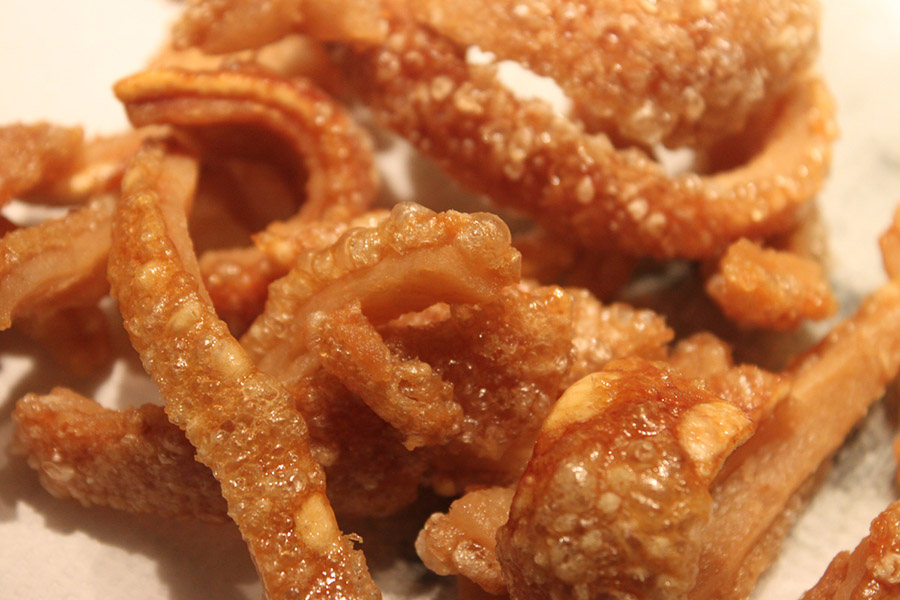 Description:
In Spain, Pork Scratchings are called cortezas de cerdo when they do not have any solid fat attached, and torreznos when they do. That is the traditional way to cook them.

Recipe method:
Rub the rind with salt and leave for 20 minutes.
Cook the pork rinds until very soft. Season the cooking water with pepper, salt, oregano and hot paprika.
Once the pork rinds are very soft, cut them into strips. Cut according to each person's preference.
After the pork rinds are cooked, dried them in a dry, well-ventilated place. Dry until the pork rind is rather hard and brittle. You can speed up the process by leaving them in the oven at a temperature of 70 degrees for 3 hours.
When it's hard and brittle, we will make small pieces ready to fry in olive oil.
They are best eaten soon after cooking, but will keep in an airtight container for a few days. After a couple of days, the pork scratchings lose propertiesand get harder.

Ingredients & Quantities:
1½ tbsp sea salt
¼tsp hot smoked paprika
½tsp black pepper
½tsp oregano
400g pork rind, with at least 1cm of fat.