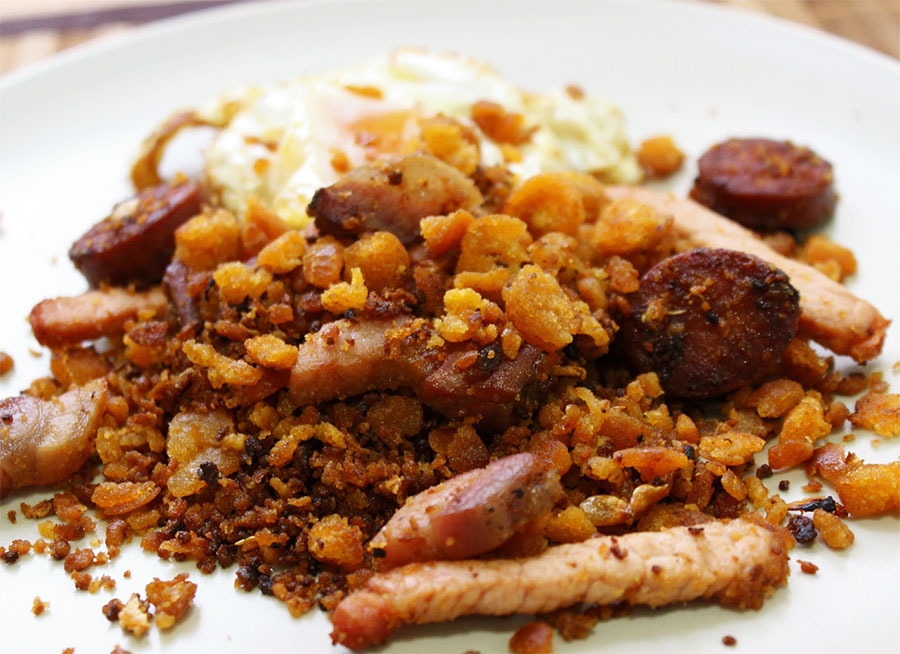 40 minutes   

  45 minutes   

  4
Description:
Migas are a typical shepherds' dish made with stale bread. There is a wide variety of Migas recipes, with many ingredients like chorizo, pancetta and morcilla.

Recipe method:
Crumble the bread into small pieces. Sprinkle with cold water, cover with a damp cloth and leave for 30 minutes.
Heat 2 tsp of olive oil in a deep pan. Add garlic, cloves separated, skins on; just make a small cut with a knife to open them and keep frying for 5 minutes. Set the garlic aside.
With the same oil, fry the pancetta until it is well browned, set aside. Add the morcilla (black pudding) and chorizo, roughly chopped, and cook for another 2 minutes. Set the pancetta, morcilla and chorizo aside.
In the same oil, where we fried everything, simmer the bread, stirring constantly for 15 minutes and add sweet paprika and a grinding of black pepper.
Add the garlic, continue stirring for about 20 minutes. It will be ready when the bread is soft and golden. Pancetta and sausage is then added to and is heated through together.
Add fried egg on the top of the Migas.

Ingredients & Quantities:
1kg stale bread
300 ml Olive oil
1 head of garlic
75g pancetta
75g morcilla
75g chorizo
1 tsp sweet paprika
Black pepper
Salt