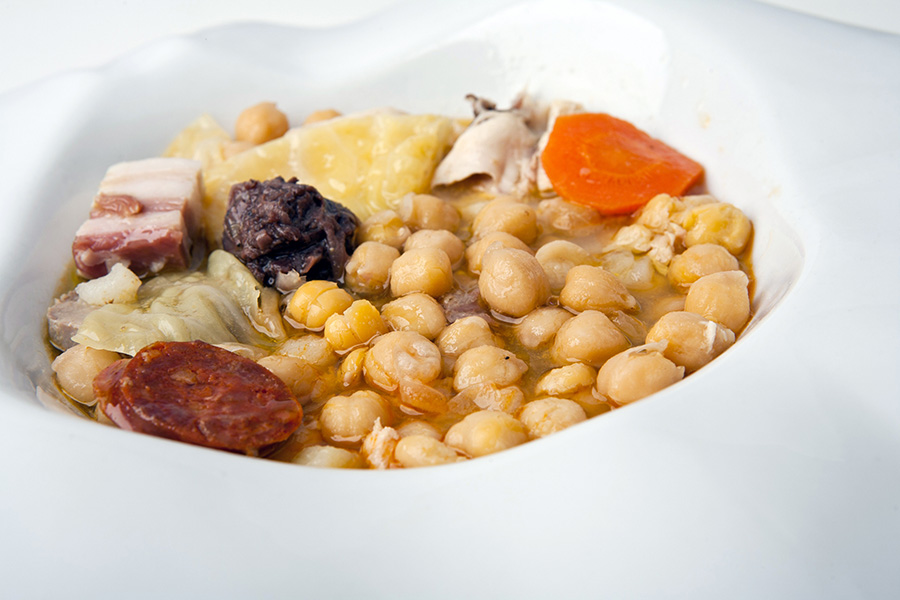 15 minutes   

  90 minutes   

  4
Description:
Madrid Hotpot, Cocido Madrileno, is a traditional chickpea-based stew from Madrid, Spain.  It is most popular during winter and it is best enjoyed with red wine.

Recipe method:
Chickpeas should be soaked overnight. Cut the chicken into pieces, dice the speck, crush peppercorns, cut carrots and celery into pieces, thickly slice chorizo, cut the potatoes into quarters.
Drain the chickpeas, place them in a stockpot, add enough cold water to cover them by a few centimetres and bring to boil. Skim off any scum.
Add the speck, chicken, beef, ham or bacon bone, garlic bay leaf and peppercorns. Bring to boiling heat, continue skimming off any scum that appears, cover and simmer for 1 hour. (The liquid should always cover the ingredients so add water during cooking if needed).
Add the chorizo, potatoes, carrots, celery into the pan and then season it with salt. Cover and cook for another 30 minutes.
When the meat and vegetables are tender, stir in shredded cabbage and cook for a few more minutes until it wilts.
Serve from the pot or, as traditional in Spain, serve the broth as the first course, the vegetables as the second course, and the meat as the third course.

Ingredients & Quantities:
300 gr chickpeas
300 gr boneless beef shank
600 gr chicken legs
150 gr speck
1 ham bone
3 cloves garlic
1 bay leaf
4 peppercorns
2 large carrots
1 stick celery
150 gr potatoes
150 gr fresh chorizo
1 cup cabbage
Salt