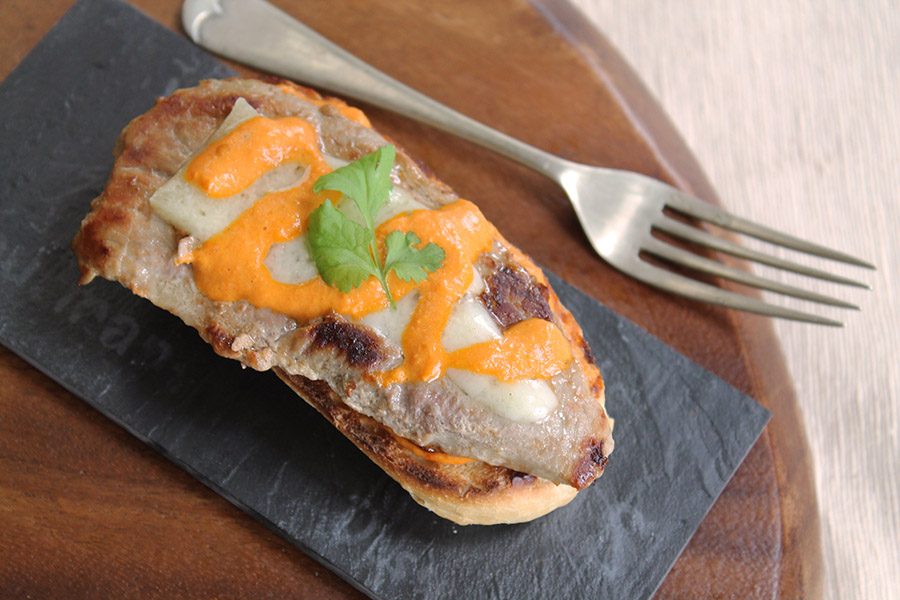 Description:
This ever-so-simple tapa is a knock-out with juicy pork steaks topped with gooey Manchego cheese and rich, creamy pimiento de piquillo sauce. Leftover sauce can be used on pasta, sandwiches or just as a dip for good crusty bread.
Recipe method:
First make the pimiento de piquillo sauce - finely dice the onion and fry in 1tbsp olive oil for around 10 minutes over a medium heat.
Add the crushed clove of garlic and the diced pimientos de piquillo.
Mix well and cook for around 5 minutes.
Add the cream and stir to incorporate.
Cook for a further 2 minutes and then remove the mixture from the heat.
Pour into a deep bowl or pot and blend with a handheld blender. Optional – pass the blended mixture through a fine sieve for a silky smooth sauce.
Fry the pork steaks on a medium heat in 2 tbsp olive oil for around 3 minutes on each side until golden brown.
Add two slices of Manchego to each steak and cover the pan with a lid. Cook until the cheese is semi-melted.
Meanwhile, cut the buns in half and toast.
Assemble your tapa by spreading a small amount of pimiento de piquillo sauce on half of a bun, followed by the pork and cheese.
Top with a generous amount of pimiento de piquillo sauce.

Ingredients and quantities:

1 small onion
olive oil
1 clove of garlic
5 pimientos de piquillo
220ml single cream
4 pork steaks
8 slices (approx. 100g) cured Manchego cheese
2 ciabatta buns or similar