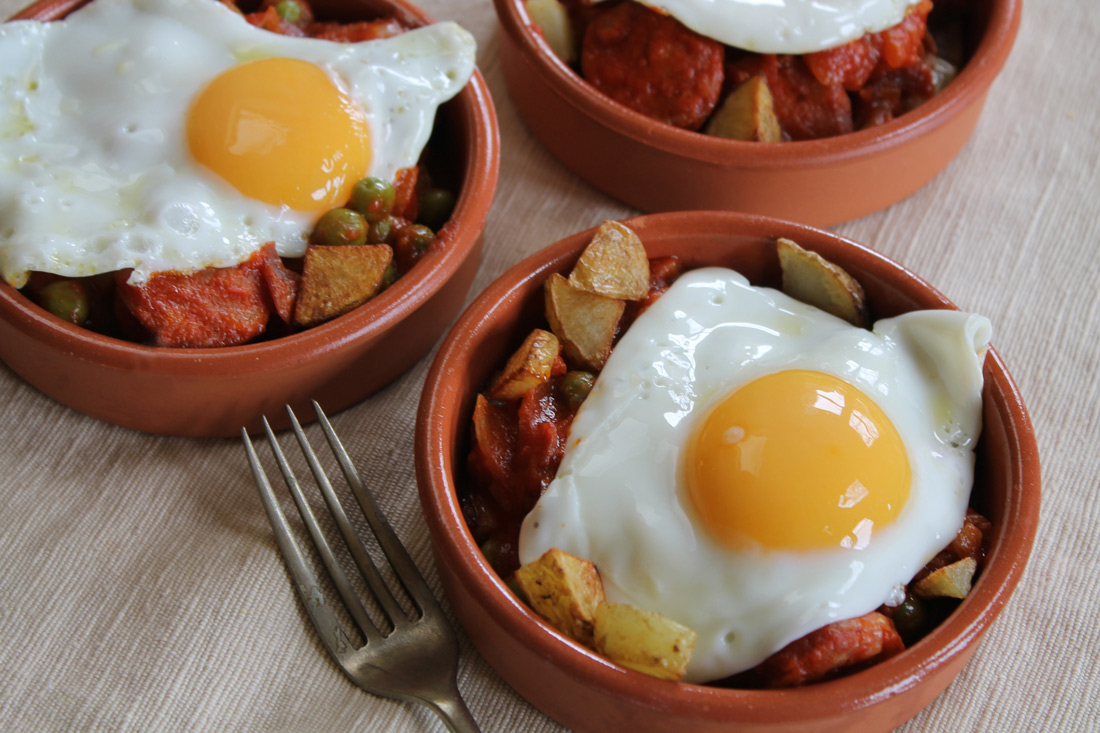 Description:


Huevos a la flamenca is a typical tapa from Andalucia and is usually served in small clay bowls. Each restaurant has their own special way of making this dish so get experimenting with different types of paprika and chorizo sausage. 


Recipe method:


Finely dice the onion and add to a saucepan with 1tbsp olive oil. Cook for 10 minutes until transparent and add the crushed cloves of garlic.
Cook for a further 5 minutes and add the cooking chorizo (sliced into ½ cm slices) and the paprika. Leave to cook for a further 10 minutes. 

Dice the potatoes into 1cm cubes and add to another frying pan with 1tbsp olive oil. Cook for 10 minutes, stirring well to prevent them sticking, until golden brown. Remove from the heat and drain any excess oil. 

Add the balsamic vinegar, frozen peas and jamon serrano, cut into large pieces, to the onions and chorizo.

If the chorizo has released a lot of oil, drain some away so that the mixture isn't too wet.

Add the tomate frito and leave to cook for five minutes. 

Fry your eggs until the white is fully set but the yolk is still runny.

Assemble your tapa by placing a layer of fried potatoes at the bottom of a small bowl.

Top with the tomato and chorizo stew and a fried egg.
Ingredients and quantities:
1 large onion
olive oil
2 cloves of garlic
1 cooking chorizo (or more!)
1/2tsp spicy paprika
1/2tsp agridulce paprika (you can also use sweet paprika)
250g potatoes
1tbsp balsamic vinegar
80g frozen peas
4 slices jamon serrano
300g tomate frito
4 small eggs/quails eggs