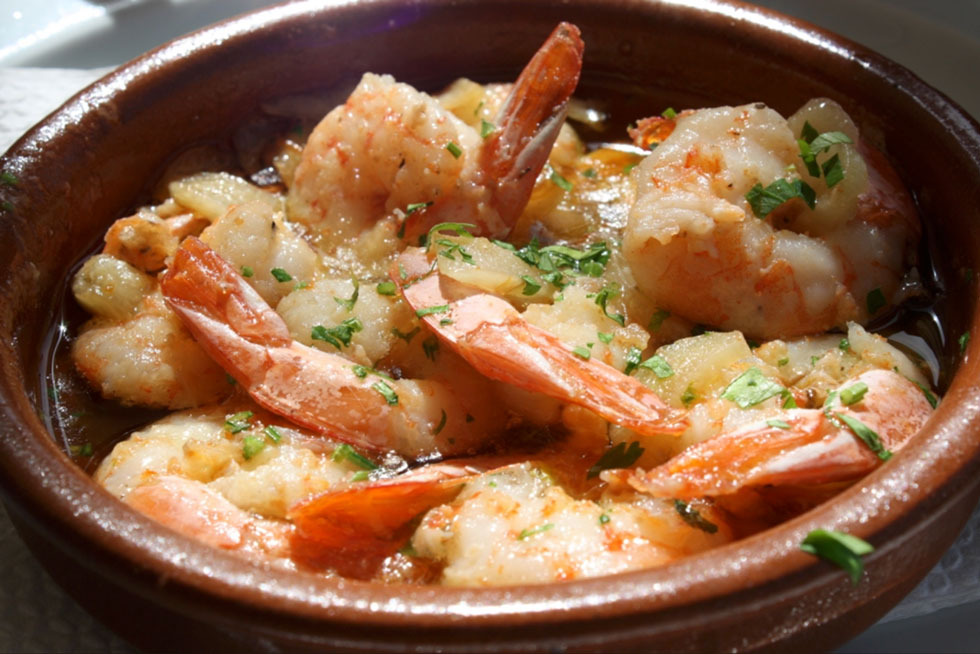 Description:
Gambas al ajillo is one of the most iconic tapas of Spain. Very easy and quick to prepare, this tasty dish requires only a few ingredients.


Recipe method:

Finely mince 4 garlic cloves using the flat side of a knife and place in a large skillet. Add 8 tablespoons of EVOO to the skillet and heat over medium-low heat, stirring occasionally, until garlic is light golden brown (approximately 4 to 7 minutes).

Thinly slice remaining 6 garlic cloves. Add sliced garlic, shrimp, bay leaf, and chile (optional) to the skillet and cook until garlic begins to brown, be careful not to let it burn (around 1 minute).

Sprinkle the shrimp with paprika and cook the mixture for 30 seconds.

Increase the heat to high and add sherry vinegar, lemon and parsley. And cook, stirring constantly, until shrimp are cooked through and olive oil is bubbling vigorously, 20 to 25 seconds.

Serve immediately right from the pan. Season to taste with salt. Sprinkle with parsley and serve with some fresh bread.

Ingredients and quantities:
10 garlic cloves
500gr large shrimp, peeled and de-vained
8 tablespoons Extra Virgin Olive Oil 
1/2 teaspoon salt
1 bay leaf 
1 (5cm) piece mild dried Cascabel chile, roughly broken, seeds included (optional)
1 ½ teaspoons Sherry vinegar 
1 teaspoon fresh lemon juice
2 teaspoons sweet paprika 
1 tablespoon chopped fresh parsley leaves