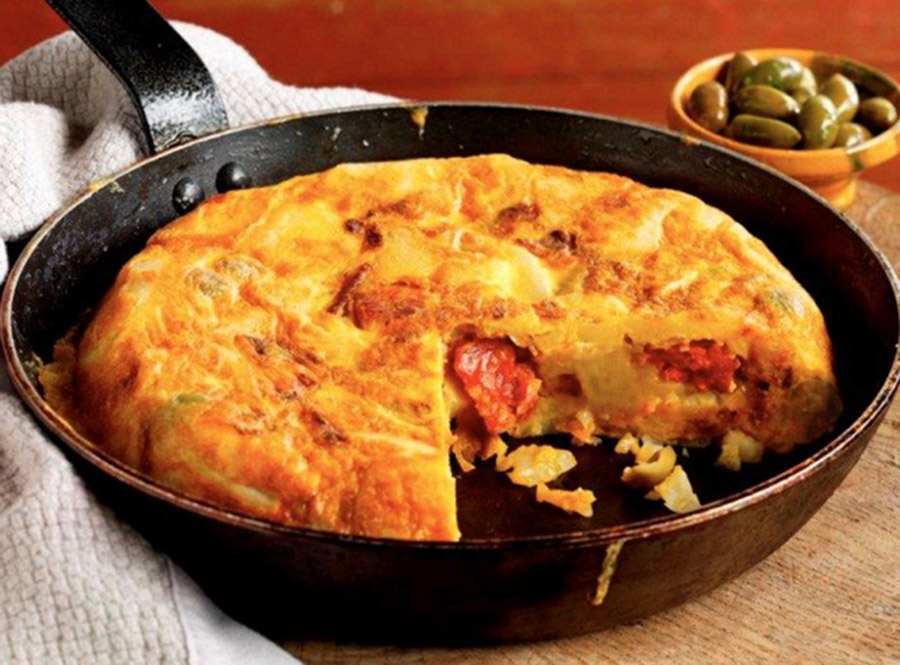 5 minutes   

  30 minutes   

  4
Description:
Another version of the traditional Spanish omelette, with chorizo and Manchego cheese.  Serve as a dish or as a 'Tapa'.

Recipe method:
Thinly slice the chorizo, Spanish onions and potatoes. Heat 20 ml of extra virgin olive oil in a pan just over medium heat, then add the chorizo slices and fry them for a short time until they get lightly browned.
Remove the chorizo slices from the pan and set aside. Heat some more olive oil in the same pan and cook the onion and potatoes for 2-3 minutes.
Reduce heat to low, cover and cook by checking occasionally until the vegetables are softened.
Whisk eggs with the Manchego Cheese in a bowl and season it well with salt and freshly grounded black pepper.
Stir cooked the chorizo into the eggs and add the onions and potatoes, mix everything carefully.
Wipe the pan and heat a bit of extra virgin olive oil. Pour in the mixture and cook at a low heat. Once that side is done, turn it over or place it under a hot grill to finish the top.

Ingredients & Quantities:
40 ml extra virgin olive oil
100 gr cured chorizo
1 small Spanish onion
300 gr potatoes
4 eggs
50 grams Manchego Cheese
Salt and freshly grounded black pepper