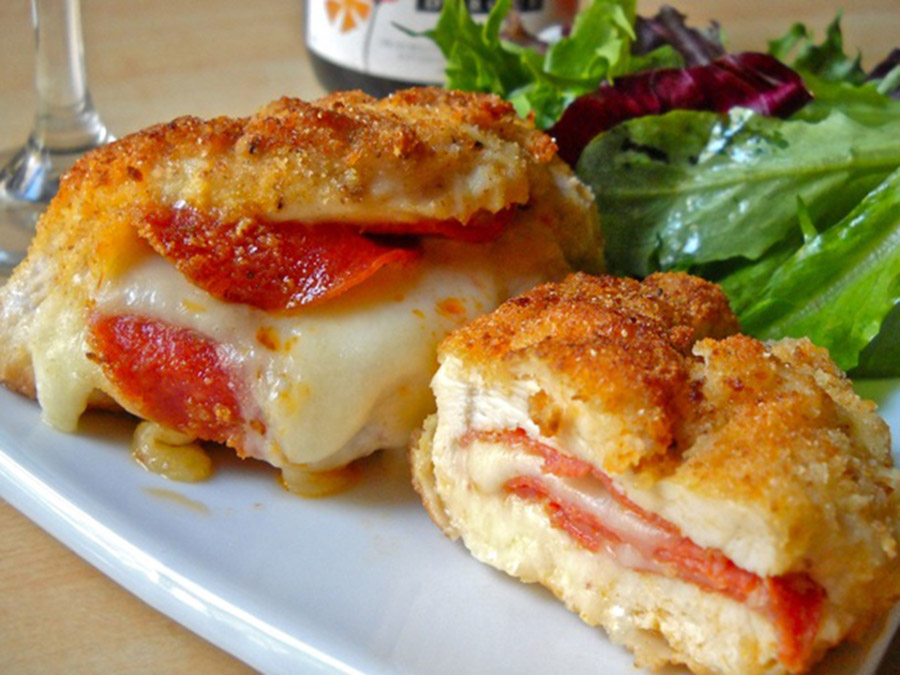 10 minutes   

  25-30 minutes   

  4

Description:

Delicious chicken breast with chorizo and melted mozzarella. Serve hot or cold with a green salad.

Recipe method:
Slice the mozzarella into 4 pieces, beat the egg, and slice the chorizo.
Preheat the oven to 200oC, gas mark 6. Make a cut with a knife down one side of each chicken breast to open it.
Cover with a plastic wrap and beat with a rolling pin to flatten out. Lay 3 slices of chorizo on each breast, a slice of mozzarella and 2 leaves of basil.
Season with pepper and fold over to cover the filling. Secure with a toothpick.
Season the egg and dip each chicken breast in egg and breadcrumbs to coat.
Put the coated chicken breasts on a baking tray, scatter with the olive oil and cook in the oven for 25-30 minutes until golden and cooked through, turning once during cooking.

Ingredients & Quantities:
4 chicken breasts
100 grams Chorizo
125 gr Mozzarella
8 fresh basil leaves
1 medium egg
50 gr fresh white breadcrumbs
1 tbsp extra virgin olive oil