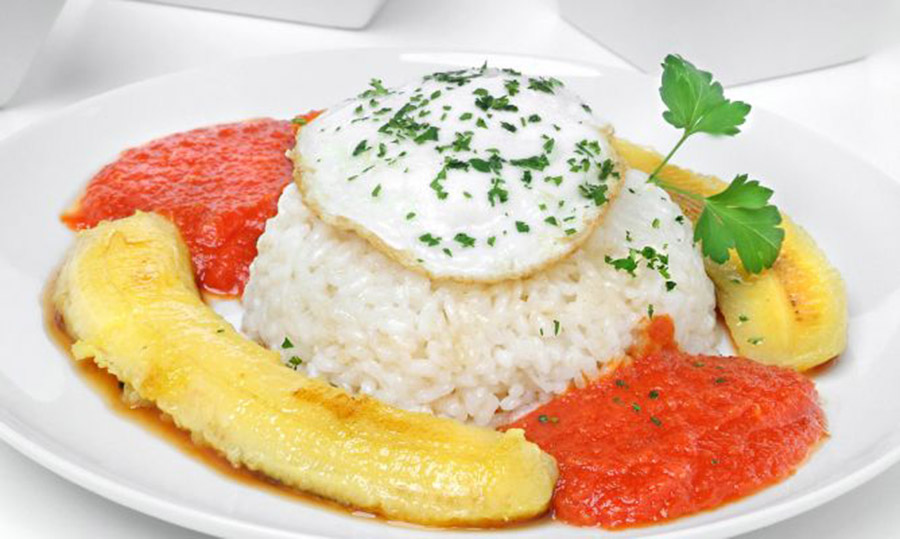 Description:

"Cuban rice" is a dish consisting of white rice, fried egg and fried banana with tomato sauce. The fried banana is a key ingredient of this recipe which reminds us of its Cuban origin.

Recipe method:
Cook the rice for 20 minutes in plenty of boiling water with a pinch of salt. Drain it and set aside on a plate.
Cut 2 garlic cloves into slices and fry them in a pan with a bit of Extra Virgin Olive Oil. Add the chopped pancetta and fry it briefly before adding the tomato sauce. Add one tablespoon of basil and cook the sauce for 5 minutes.
In another pan fry two garlic cloves and, when they turn golden, add the rice. Sauté and stir well for a couple of minutes. Place rice in a bowl and cover to keep warm.
Clean the pan with some paper towel, removing any rice excess and fry the eggs with some olive oil. Coat the peeled bananas with flour and fry them in the same pan.
Prepare four bowls by coating them with a bit of olive oil and adding a sprig of parsley at the bottom of each one. Fill the bowls with rice and unmould each one on a plate. Serve with an egg one the side, some tomato sauce and a fried banana.

Ingredients & Quantities:
300 gr. of rice
4 eggs
100 gr. pancetta
1/4 l. tomato sauce
4 garlic cloves
4 bananas
flour
extra virgin olive oil
1 pinch salt
1 tsp basil
4 leaves of parsley